Here is a review in TripAdvisor by one of my friends who went to the Elias Beach Hotel, Limassol, Cyprus, in August.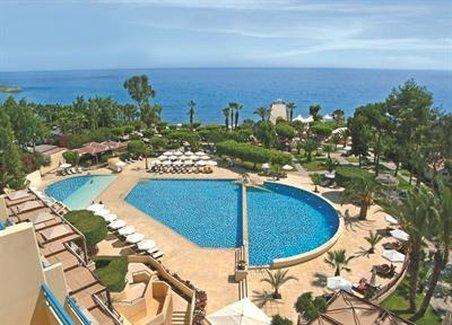 Unbelievably (to me anyway) he gave it 4 Stars.
Based on his review, how many stars would you give it?
The Elias Beach Hotel is an excellent hotel, but, if you're planning a trip there, then there are many things you should be aware of.
Firstly, if it's a quiet get-away-from-it-all hotel you're looking for, then this is not the place for you.
In the time we spent there (11 nights), there were 6 different wedding parties staying there. Large groups means lots of people having a good time; no problem, except that they often have little consideration for those around them, especially as they tend to have their hen night/stag party there as well !!
Their after-wedding party not only closes the greek-style restaurant for other guests, but the noise goes on well into the early hours.
For all-inclusive guests, the food is excellent. If you can't find something that suits you here at breakfast, lunch or dinner, then you won't find it anywhere. The staff who wait at the tables are as good as I've seen in any hotel.
However, don't be fooled by the promise of " a choice of 4 restaurants". Flavours and Amadeus are actually the same place, with just a different seating area, and as the dress-code was totally ignored by everyone, it meant that there was no difference between the two.
The Japanese is good, but you're only allowed to go there once, and it is isn't open every night. As I said earlier, if there's a wedding on, you can't use the other restaurant either. The bar is great, the waiters attentive, and the area cool and relaxing.
I was horrified to discover that their red wine was the same temperature as their white wine (ice cold), but the staff did everything they could to rectify this.
The rooms are clean and comfortable, but we paid for an upgrade to a Junior suite. As someone else said, this was a long way from my definition of "suite", in that a Junior suite here is, in fact, just a bigger room with a settee that could be turned into a 3rd bed.
The free Wi-Fi is abysmal. I'm glad I didn't actually have to rely on it. They need to seriously upgrade their system.
There are pretty much enough sun-loungers to go round, but there is a 7 a.m. frenzy to get the best spots. Some people reserve 10 beds, and then use 2 of them for half an hour a day. I can't blame the hotel for this, but it doesn't make for a relaxing holiday. 
Whilst we were there, the hotel guests were probably 50% Russian. As someone else commented, not your average, decent Russian folk, but more the nouveau-riche arrogant Russians who think they own the place. They have no manners, treat the staff like dirt, and sit around smoking their foul Russian cigarettes at every opportunity.
There are lots of comments about the "Entertainment" that goes on. Pool zumba dancing at full-volume, catch the tennis ball in the tennis ball tube, darts, and bingo, are, however, more Butlins than I was expecting. The evening entertainment reminded me of the bad bits from "Britain's Got Talent".
In short, if you have small children, are in a large group, or wished you'd been an extra in Hi-De-Hi, then this is the place for you.
If you want to be able to fully relax, then you might want to think again.
In fairness more than 700 people have rated it with the majority rating it Excellent or Very Good on TripAdvisor, so It seems my friend just picked the wrong time to go.
Based on his review, how many stars would you give it?
Cliff Chapman
www.traveljunkies.com