About Traveljunkies
About Traveljunkies
Our Story.

Back in 2000 our daughter Alison emigrated from the UK to Australia.
She wanted to work for herself so we bought two businesses. Dunk Jet Sports and an Information Station both in Mission Beach QLD..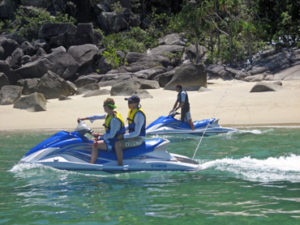 Dunk Jet Sports
As well as jet ski hires from the beach we ran 2 hour jet ski tours around Dunk Island, the largest island in the Family Islands National Park.
It was profitable because our customers were the guests of the Resort on Dunk Island and the cruise ships that visited regularly.
The Information Station was next to a large Backpackers Hostel so we quickly added an Internet cafe, but it was no surprise when the hostel soon provided an Internet service for their guests. Rather than being a downside, because the young backpackers rarely had any money to spend anyway, this enabled Ali to concentrate on tours, cruises and accommodation bookings and market them online. These were the early days of Social Media and Internet Marketing was taking off..
This was the birth of Traveljunkies.
Then in March 2006 Cyclone Larry visited.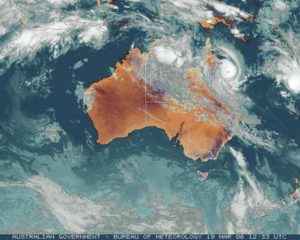 Larry was a Cat 4 Cyclone that came ashore in the early hours of the morning right across Mission Beach destroying everything in it's path, and that included the Resort on Dunk Island.
In one day we went from having a profitable lifestyle business to having no business at all.
Luckily our jet skis were mostly undamaged and we were able to sell them but we had to write off our business because without the Resort we had no customers.
We learned two big lessons.
Don't rely on one source of customers and don't trust the weather.
We continued to run the Information Centre for a while because Traveljunkies had become important to our customers but with so much devastation in the area, the number of visitors to the beautiful beaches and rain forest dwindled and the future didn't look good. .
Jump ahead a few years.
Without her main business Ali went back to her first love of working with animals as a vet nurse and she also started a family.
In 2011 we transferred Traveljunkies from Australia to the UK where we continue to this day to provide free adverts for small adventure travel businesses, and this has grown to include most countries throughout the world.
But now it's more than that.
Having had the experience and seen the benefits of owning our own businesses, we redesigned and relaunched Traveljunkies earlier this year to promote small adventure travel companies, including those that don't have their own website.
We continue to list our existing free adverts and encourage new customers to check out a free entry to see how it works before deciding to advertise.
Why Traveljunkies?
Because it's where people are looking to find what you sell.
Traveljunkies and travel junkies are increasingly popular search terms with the all the major search engines.
(A Google search for travel junkies finds more than 7 million results and traveljunkies returns more than 300 thousand results).
For both of these searches we are at the top of Page 1 in Google, Bing and Yahoo and even on the first page in Baidu.com the No.1 search engine in China.
And a search in Google for "Adventure Travel Directory" also finds us in the top spot.
So, if you have a travel website or even if you use a booking agent, we'd love you to join us.
Don't wait. It only takes a minute to get your free advert in Traveljunkies or to see how a keyword rich advert can help your website get found on the Internet.
Yep, It all starts by getting found, just click here.
Thank you
Cliff Chapman
Traveljunkies