Why Pictures Work And What You Can Easily Do
Why Pictures Work And What You Can Easily Do
How effective is a simple picture like this?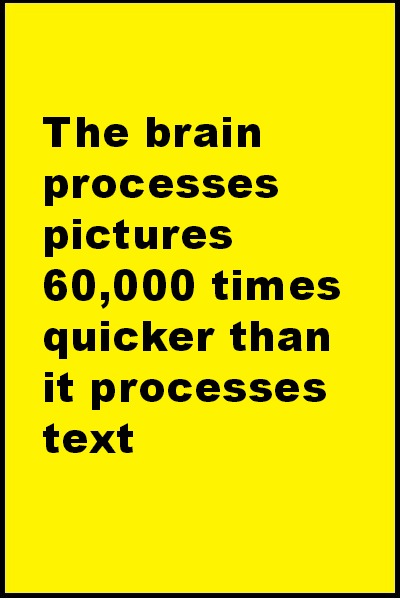 A short while ago I posted this and had a lot of positve comments saying how effective a simple picture like this is.

So I asked these three questions
1.  Are you using your pictures to help grow the number of visitors to your website?
2.  Do you include a picture in all your Tweets?
3.  Do you have the pictures you need to include in your advertising in the social media you use?
And the answers I got were mostly YES to question 1 and NO to questions 2 and 3.
The solution for question 2 is simple – just do it, but number 3 isn't quite so easy.
But there's help from SproutSocial here …
If a picture is worth 1,000 words, and the average length of a word is 5 letters, it would take you 8 months worth of Tweets to tell the same story you could with one shared image on social media. So why not just include an image?
There are lots of tools for different types of images and many of these have free and paid versions, and all are listed in this document.
I recommend you start at the top and look at two Image Design Tools, CANVA and PICMONKEY (Nos 1 & 2 in the list) to see what suits you best.
Both have free versions which enable you to design and edit images for your social media posts.
There are many free image editing tools for you to start altering, touching up, or creating your own social images, and these are two of the simplest ones to use.
So click on the link below and get started.
36 Free Tools for Creating Unique Images
By Michael Patterson on 
http://sproutsocial.com/insights/free-image-creation-tools/
Cliff Chapman
traveljunkies